Regimental Quartermaster Sergeant
Edward Nicholas Boots

1862 as Sergeant, Co. H, 101st PA

Edward Nicholas Boots was born on Dec. 19, 1833 in North Sewickley Township (presently a part of Marion Twp), Beaver County, Pennsylvania. He was the first born child of Rev. John & Sylvia (Coleman) Boots, who came to Beaver County in 1829 from Sussex County, England. He was named for Sylvia's brother, Edward Coleman, and her mother Lucy's maiden name Nicholas.
Edward's father John, and two uncles, Samuel & Edmund Boots, were among the founding fathers of the Concord Methodist Episcopal Church in North Sewickley Township. Edward's father passed away in 1853, leaving his mother to care for him and his five brothers and two sisters, as well as the family farm. In 1859 Edward obtained his Teaching Certificate for the Common Schools of Beaver County and shortly thereafter was assigned to the Knob School House in New Sewickley Township, and served as a Sabbath School teacher at the Methodist Episcopal Church in Unionville.
During the beginning days of the Civil War, Edward was appointed to serve on the Beaver County Committee of One Hundred, and one of six representatives of the Safety Committee for Marion Township. The main purpose of these committees was to care for the families who had soldiers serving in the war.
Wanting to do more for the cause, he enrolled in the Army when his Pastor, Alexander W. Taylor, announced that he was recruiting a company of men to serve under Colonel Joseph H. Wilson, a former General in the PA Militia.
On Oct 4th 1861, Edward and two cousins, Edmund Rutledge Boots and George H Coleman, enrolled in the "Beaver Guards," under the command of now Captain Alexander W. Taylor. While at Camp Curtin, Harrisburg, PA, the Beaver Guards became Company H of the 101st PA, with Edward having the rank of Sergeant. He was promoted to Quarter Master Sgt of Co. H on November 13th, 1862. While in the service, Edward never went home on a furlough, which deeply saddened his mother and his sweetheart, Lizzie Rauscher, of Unionville, who could hardly wait for his enlistment to be up. I'm sure it shocked both of them when he re-enlisted on January 1st, 1864 at Plymouth, NC. One bonus to his re-enlistment was promotion to Regimental QM Sergeant. Another major bonus to Edward and his family was the thirty day furlough that came with his re-enlistment. Little did Edward know that the promised furlough for re-enlisting would never come.
The Battle of Plymouth, NC took place from the 17th to 20th of April 1864, with the soldiers at Plymouth dressed in new uniforms and ready to go home on furlough. The Battle of Plymouth was a major victory for the South, with the entire garrison of Plymouth being captured including the entire 101st PA regiment. These captured soldiers became known as the "Plymouth Pilgrims". Edward's fate was the same as most of the other Pilgrims. He was captured on April 20th 1864 and taken to Andersonville, GA. In the beginning of September 1864, when the majority of the prisoners were being transferred to Charleston or Savannah, Edward was left behind due to his contraction of scurvy. Shortly after most of his fellow soldiers left, he passed away on September 12th, 1864 at the age of 30 (although his obituary states 31). He is buried in grave # 8606. His grieving mother received a letter after the war which said, "Mrs. Boots, please don't worry about Edward not having a Christian burial. I carried him out on my back, buried him and marked his grave."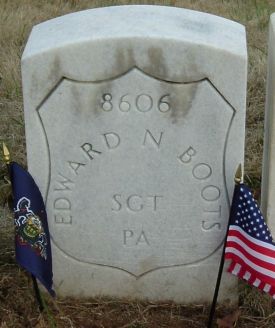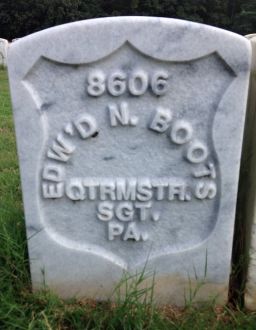 His headstone has been replaced at least 4 times. I noticed the latest replacement in 2014.