My Life & Civil War Research
I am a descendant of the Rev. John & Sylvia (Coleman) Boots who came to Beaver Co., PA in 1829 from Sussex Co., England and settled in what is now Marion Twp.
I am a Beaver Co., PA native. My father was from Fombell and my mother from Rochester, PA.
My father served in the Air Force, so I spent most of my early life moving to different places. Dayton, OH - Alexandria, Louisiana - Okinawa, Japan - Biloxi, Mississippi and Summerville near Charleston, SC where I lived from 3rd Grade thru High School.
Quite often throughout my youth, we visited my Grandparents, Ralph & Pearl (Miller) Boots, and my Aunt Ruth & Uncle Claude Stuck, as well of the rest of my father's family. We also visited my mother's family in Rochester, Millvale and Pittsburgh. My Grandpap Boots loved history and would always share local and family history. It obviously had an impact on me.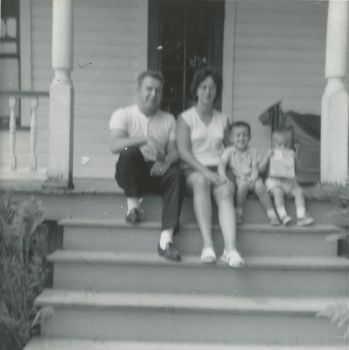 1966 with my parents & younger brother on the porch at the Boots Farm in Fombell
After High School, I enlisted in the Air Force and worked on nuclear missiles in South Dakota.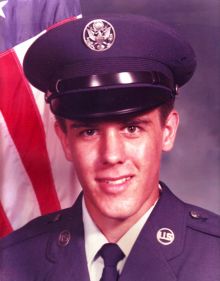 Shortly after enlisting, I married my high school sweetheart, Marla, from SC.

Junior Prom
After my enlistment was up, and three kids later, we returned to SC. Marla had her share of snow in SD, so we decided to go back to SC instead of PA, which had been a desire of mine growing up.
As a child and a young man, I hoped someday that I could return to PA to live and find my roots. It's been 18 years now since I came "back home." It's the longest I have ever lived in the same house.

Growing up, I was always interested in history and due to living in close proximity to Charleston, SC, the birthplace of the Civil War, I took a great interest. However, it wasn't until the age of 31 when I started researching my family history a little more and became more aware of my family's involvement during the Civil War. My family didn't talk much about the tragic loss of my 3rd great uncle, Edward Nicholas Boots, who died as a POW at Andersonville prison in Georgia.

In years past, there was a stigma attached to dying as a prisoner of war rather than gallantly on the battlefield. For generations, my family didn't want to talk much about Edward. Edward's story was beginning to disappear until I began researching and asking questions about my namesake, the forgotten soldier. My grandfather said, "Leave him alone. Let him rest in peace," but I wanted to know more. In my quest, I discovered 80 letters written to and from Edward Nicholas Boots during the Civil War. They were in Mercer Co. in the possession of Patrick Hassler, a distant cousin. He graciously gave me the letters. Without his generosity, I would not know near as much about Edward and the rest of the family as I do today. Shortly after that, I discovered that other distant relatives, Bob & Barbara (Boots) Moon, had another 60 letters as well as a photograph. When I saw the strong resemblance between me and Edward, it was confirmation that this was something that I should be doing with my life.
I also learned of other family members who served during the Civil War, such as William D. Boots of Co. H, 139th PA Volunteers & Edmund R. Boots & George H. Coleman, both of the 101st PA. Also, Edward's sister, Sylvia, married after the war to Theophilus Bunzo of the 18th PA Cavalry. On my mother's side, my Great Great Grandfather Ephraim Brunner served in the 5th PA Heavy Artillery.

In researching the 101st Pennsylvania, I learned of the 4 day, hard fought Battle of Plymouth, NC in April 1864 which resulted in the capture of nearly the entire regiment. All told, there were close to 3000 prisoners captured that day from 10 different regiments. They became known as the Plymouth Pilgrims.

In 1993, I attended a reenactment of the Battle of Plymouth and found other descendants with similar interests who shared the same story of the POW's legacy. I resolved to ensure that these soldiers would not be forgotten and that their entire story would be told and that honor would be given to these men.
Since, 1993, I have been going every year to Plymouth, NC for their Living History Weekend in April.
I co-founded and currently serve as President of the Civil War Plymouth Pilgrims Descendants Society whose mission is to make sure that the Plymouth Pilgrims are not forgotten, to share information and to educate anyone interested in these soldiers. In 1994, I began doing first person presentations of Edward to share his story in his own words. I've continued doing First-Person portrayals to this day in a wide variety of venues, but am definitely slowing down.
I also have served with the 101st PA Re-enactors & Color Guard since 1995, participating in parades, Living Histories & battle re-enactments.

As a result of 25 years of research, I have retraced the path of the 101st PA through Pennsylvania, Maryland, Virginia, the Carolina's and Georgia, visiting all of the places that they had been. I have been to Andersonville, GA 6 times and can't wait to go back! My first visit was in 1994 with other Plymouth Pilgrim descendants and was my first visit to Edward's grave. I was also there for the 2005 re-dedication of the PA Monument and visited Edward's grave on the 150th anniversary of his death in 2014. My most recent visit was in 2015 for the "Funeral of the 13,000." For whatever its worth, I can be seen, along with my wife and cousins Rob & Beth Wehr at the 1 hour and 47 second mark on the previous video link. Just 12 more seconds and I would have been at the 0101 mark!!
I became very interested in all of the Civil War prisons where the Plymouth Pilgrims were held captive and have done quite a bit of research and visited all of the sites. Additionally, at one time, I served as a board member of the Friends of Florence Stockade. The Florence Stockade was a  prisoner of war camp, much like Andersonville, located in Florence, SC.
In 2014, on the 150th Anniversary of the Battle of Plymouth, the Civil War Plymouth Pilgrims Descendants Society erected a monument, that I had the honor to design, in remembrance of all of the participants in the battle; both North & South.
Today, I continue to do First-Person presentations on a limited basis and hope someday to finish writing my book on Edward. I am very much interested in family and local history and currently serve as Treasurer for the Fombell Area Historical Society.
I have been truly blessed by God to be a part of all this and I humbly continue...